Introducing Arcanus R6S. A R6S Private and Slotted cheat.
A fully Legit, League-based cheat, created for Streamers and Competitive players.
Compatiblility

Windows 7, 8, 10 - All versions, including 20H2.

Intel & AMD compatible

DirectX & Vulkan compatible

Steam & Ubisoft compatible
​
------
ABOUT OUR CHEAT
After competing Semi-Professionally in multiple FPS games, we built this cheat on the backbones of what could have carried us to becoming true Professional players.
Made for Experienced players, our Assists are limited to "legit" settings only. Other than our ESP, this cheat does not have any rage features.
Everything has been designed for complete stealth & humanized to mimic real human mouse input. Incredibly Subtle to the Human eye, yet extremely Powerful for the user.
Arcanus is here to give you the edge needed to dominate your competition, all while keeping you completely safe in the process.
------
VISIBLE-ONLY AIM ASSIST
Media
------
Fully customizable to suit your needs, our Aim Assist will give you the edge needed to dominate your competition,
all while keeping you completely safe in the process.
Humanized in every way possible to mimic real human-mouse input, our Aim Assist is incredibly Subtle to the Human eye, yet incredibly Powerful for the user.
Customize Strength, FOV, Distance, and Hotkeys to suit your playstyle/aim and give you the edge you require.
------
During our testing phase, we streamed our gameplay to 20 skilled users to see if they could notice anything odd going on.
After winning many games in a row, with great scores, no one knew we were cheating and just thought of us as smurfing/highly-skilled players. The same will go for you.
​
------
FULL/VISIBLE-ONLY ESP
Media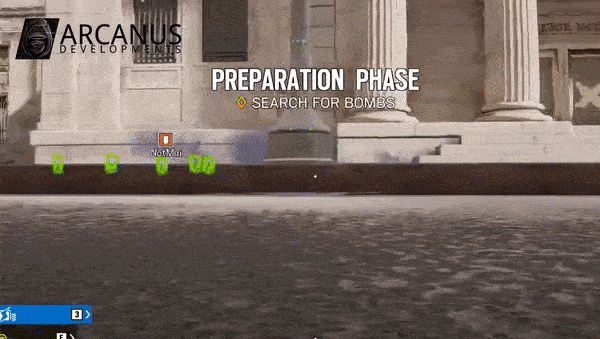 ------
Undetected for over a year now, our ESP will show you exactly what you need to win the round.
Full ESP - Enemies are highlighted & visible through walls, including visible/not visible colors.
Visible-Only ESP - Enemies will be highlighted if visible, increasing your reaction times with the right colors.
Customize whether you'd like Full/Visible-Only, ESP Max Distance, Visible/Not Visible colors, and Hotkeys.
​
------
LOADER/CONFIG

Built behind Stealth, our loader can be customized to never pop up again.

Easily stream/show your R6S launch without any consoles/GUI popping up during the injection process, or in-game.

Silent Load - No console/GUI will pop up when Loading/Injecting.

No Visual - All Visuals will be disabled, allowing only Aim to be active.

------

We understand that one config file isn't enough.

Set up 2 different profiles that can be switched using F1 & F2.

Perfect for creating 2 separate configs for Normal play, and one for Clutch situations.

Configs can be changed and reloaded mid-game.

​
------
STREAMERS

Looking to stream with our software?

Using our silent load feature, our cheat will automatically load & inject itself into R6S with no consoles or GUI popping up.

This will allow you to stream your Desktop/full R6S launch to "show" you aren't injecting/using any cheats.

Using a handcam?

Great. Our Aim Assist is so subtle that using a handcam will show nothing out of the ordinary.

------

Heads up! Our ESP is not Stream-Proof.

As of right now, we don't believe ESP is something any user should be using on Stream.

The likelihood of getting away with ESP on stream is very slim for a high majority of users.

Though, if requested enough by our users, we will consider adding in one.

​
------
PRICING
Prices are subject to change once our reputation is solidified. Not all users will be accepted.
You must be Verified before Purchase.
This is a private cheat. Vouches from other respected private Developers or Reputation on D3/other trusted forums are required to enter. Likelihood of entering without either is incredibly slim. If you don't have either, don't waste your time/ours.
Price:
$100/month, BitCoin.
$119 or €95/month, Paypal.
Reason for the price difference is due to having to use Wayne,
https://www.elitepvpers.com/forum/c...ecoin-cardano-paypal-skrill-bank-revolut.html
, to convert Paypal to Bitcoin, as we only take Bitcoin.
These are his fees. Once payment is made to him, he will send us the Bitcoin and we will activate your account.
------
Even though you must Verify yourself, our cheat is also designed for complete anonymity.
All communication is done either through Wickr or Discord (we ask you create a new account to communicate with us), all chats can be deleted if you wish,
and all payments are through bitcoin. Your identity is safe with us.
------
Reason for the price:
- Private, with a max of 30 slots.
- Cheat & Bypass are completely coded from scratch. Neither will be resold or ever used again.
- Round the clock, professional support.
------
A quick Heads up:
Understand that you MUST have proper knowledge of maps, know how to pre-aim around head level, game-sense, etc.
This is not a "rage" cheat that will instantly make you the best player in the world.
​
------
CONTACT

Feel free to add us on Discord: ARCANUSDEVELOPMENTS#5305

or Direct Message us here for more information.

We have no other accounts or any resellers!

Ask us to message you here to validate that we are infact who we state we are!

​
------
Seller's Format
Contact Information:
ARCANUSDEVELOPMENTS#5305 on Discord
Join Date on D3Scene:
2/11/2021

Name of Hack(s)/Service(s):
Arcanus R6S
Time Undetected:
Since 1/8/2021. Separately: ESP (11/2019), AIM (2/2020).
Website:
None. We currently operate using Discord/Wickr.
Compatible Games:
R6S - Dx/Vulkan - Steam/Ubisoft
Terms of Service:
Don't talk about Arcanus anywhere other than our threads/discord, be kind and professional when discussing with users/myself, don't rage with our cheats, and we are not responsible for what may occur to your account while using our cheats. Bout it.
Refund Policy:
If we can't get the Cheat to operate on your PC after a day of trying, we will fully refund you. You must be willing to work with us, as we will do everything in our power to make sure it works, just as we have done for our other users. We've built this cheat on the bare minimum required; if you can run R6S, you can run our Cheat. Certain AVs may block our Cheat from performing properly. Certain intrusive ACs may do the same. We recommend users start with a fresh install of Windows/Dual Boot to make sure nothing stops our Cheat from performing properly.
Vouches
: Can't fit them here. You can find them on -
https://www.elitepvpers.com/forum/r...-esp-private-slotted-1-year-ud-100-month.html
​
​