Aimbot.co.uk
is a cheat thats been around for a while but we have recently decided to release it to the public.
i cant post links or images on this site so if you would like some more information all the images and videos is on the site
www.aimbot.co.uk
we currently support cheats for a few games and are developing many more.
If you have any questions please contact us on this page.
https://www.aimbot.co.uk/contact-us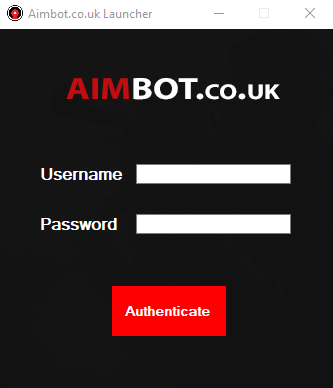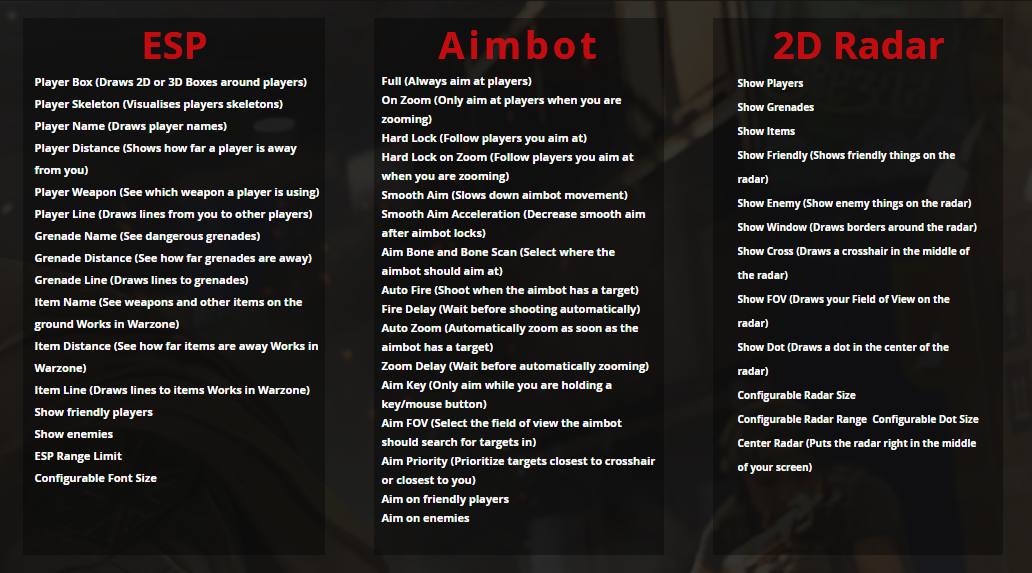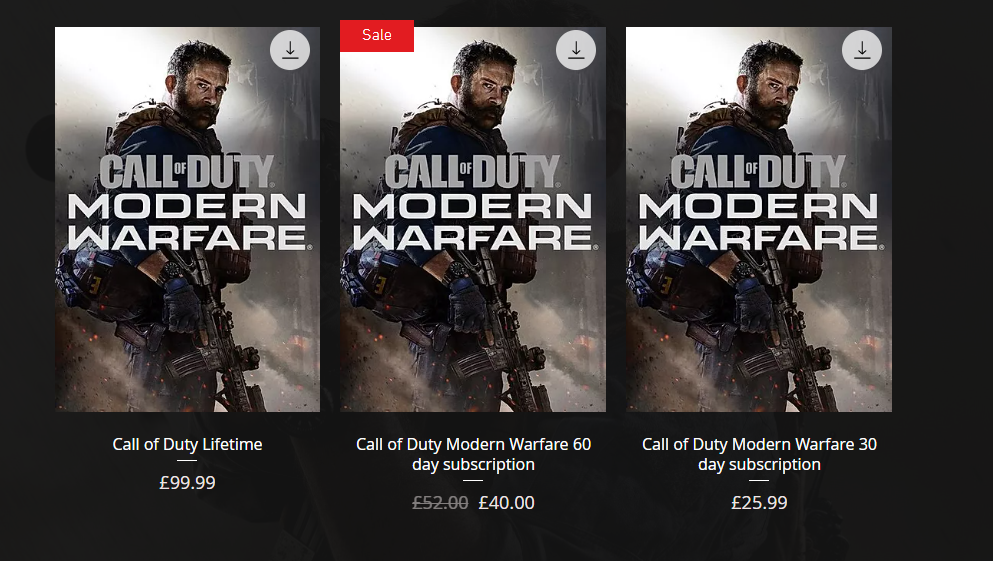 Features for COD cheat.
ESP
Player Box (Draws 2D or 3D Boxes around players)
Player Skeleton (Visualises players skeletons)
Player Name (Draws player names)
Player Distance (Shows how far a player is away from you)
Player Weapon (See which weapon a player is using)
Player Line (Draws lines from you to other players)
Grenade Name (See dangerous grenades)
Grenade Distance (See how far grenades are away)
Grenade Line (Draws lines to grenades)
Item Name (See weapons and other items on the ground Works in Warzone)
Item Distance (See how far items are away Works in Warzone)
Item Line (Draws lines to items Works in Warzone)
Show friendly players
Show enemies
ESP Range Limit
Configurable Font Size
Aimbot
Full (Always aim at players)
On Zoom (Only aim at players when you are zooming)
Hard Lock (Follow players you aim at)
Hard Lock on Zoom (Follow players you aim at when you are zooming)
Smooth Aim (Slows down aimbot movement)
Smooth Aim Acceleration (Decrease smooth aim after aimbot locks)
Aim Bone and Bone Scan (Select where the aimbot should aim at)
Auto Fire (Shoot when the aimbot has a target)
Fire Delay (Wait before shooting automatically)
Auto Zoom (Automatically zoom as soon as the aimbot has a target)
Zoom Delay (Wait before automatically zooming)
Aim Key (Only aim while you are holding a key/mouse button)
Aim FOV (Select the field of view the aimbot should search for targets in)
Aim Priority (Prioritize targets closest to crosshair or closest to you)
Aim on friendly players
Aim on enemies
2D Radar
Show Players
Show Grenades
Show Items
Show Friendly (Shows friendly things on the radar)
Show Enemy (Show enemy things on the radar)
Show Window (Draws borders around the radar)
Show Cross (Draws a crosshair in the middle of the radar)
Show FOV (Draws your Field of View on the radar)
Show Dot (Draws a dot in the center of the radar)
Configurable Radar Size
Configurable Radar Range Configurable Dot Size
Center Radar (Puts the radar right in the middle of your screen)