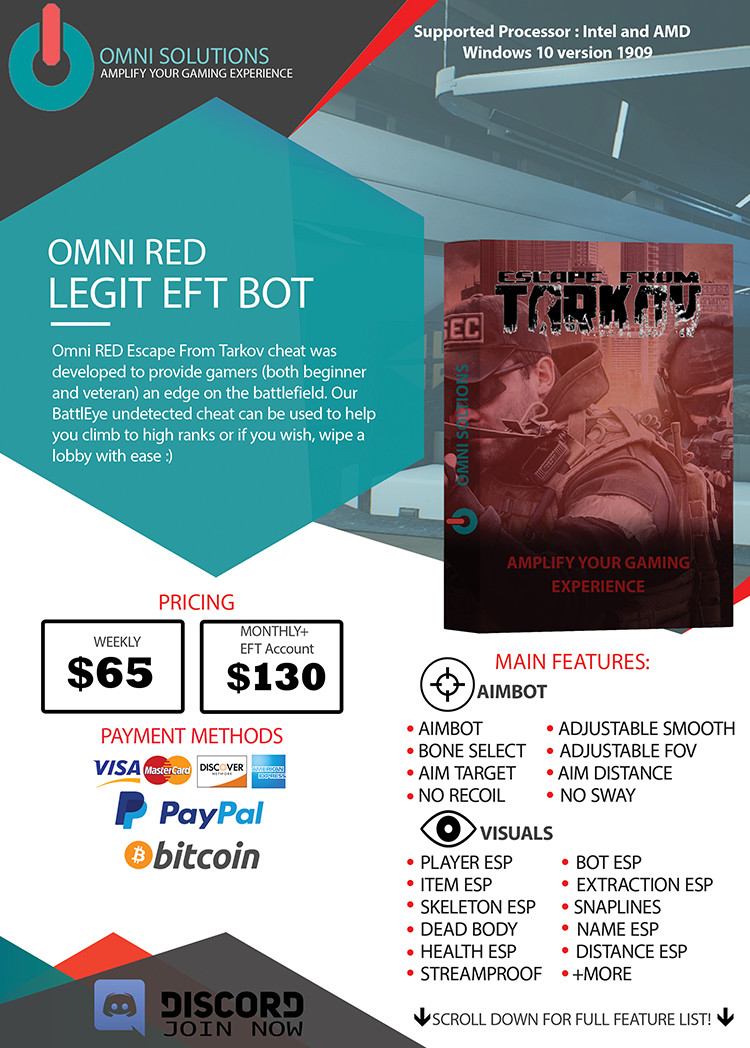 Contact Information
: Support ticket via discord, dm via discord
Join Date on D3Scene
: 9/17/20
Time Undetected
: Feb2020 to current
Website
: N/A
Compatible Games: Escape From Tarkov

Terms of Service/Refund Policy:
This item is a virtual good. You will receive a subscription for paid website access or paid client access correlating to the item that you are purchasing. Each subscription is only valid for one account and may be hardware ID locked. This means that you can not share access with other computers and/or users.
Also due to the characteristics of the digital product, which is a serial number or activation key, you can not request a refund or exchange it even if you cannot use it due to your system incompatibility. All users have their own risk and responsibility to stand punishment from the game by using this program.
By purchasing this subscription/product, you agree to these terms.
Link to Video/Media
:
^video for the latest patch^
Vouches
: Vouches from users in Discord server +
epvp post
Full Feature List
External
No FPS Drop
Stream Proof

[Aimbot]

Aimbot Key (Any key)
Adjustable Smooth
Bone Select (Head, Neck, Body, Arms, Stomach)
Adjustable FOV
Aim Target (FOV, Distance, Health)
Aim Distance
No Recoil
No Sway
Player ESP
Bot ESP
Item ESP
Extraction ESP
Skeleton ESP
Snaplines
Dead Body
Name ESP
Health ESP
Distance ESP
Crosshair
Custom ESP Colors
FPS
Time
Resolution
Visibility Check
​
Last edited: